A vegan diet is a plant-based diet.

Vegan diet does not consume meat, fish, eggs, dairy products, honey, gelatin, white sugar etc.

In other words, it refers to a diet that is not exploited from animals.

Because it does not contain animal foods, it does not consume cholesterol and is low in fat.

Therefore, it is a recommended meal for people who are conscious of health and beauty.

This time, I would like to introduce the recommended vegan shops in Shinjuku.

Mr.Farmer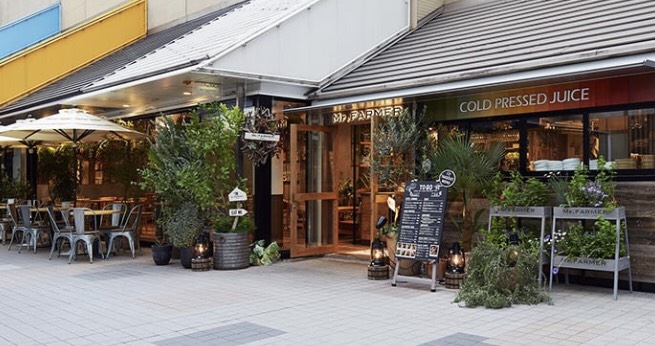 A green shop in Mylord, Shinjuku.


There is also a table outside.
When the weather is nice, many foreigners use the outside table.

When you order food, detox water is included free of charge.

There are 3 types of self detox water, so I will replace many cups.

Some dishes are vegan and some are not vegan.

Vegan food is easy to understand because it has a V mark.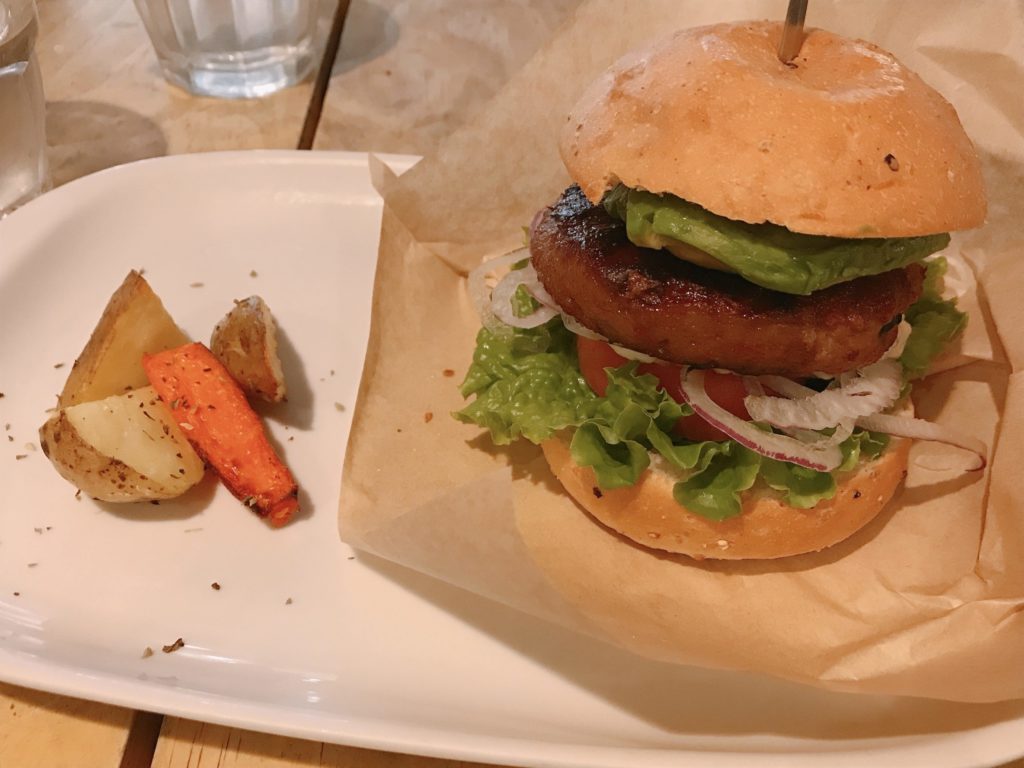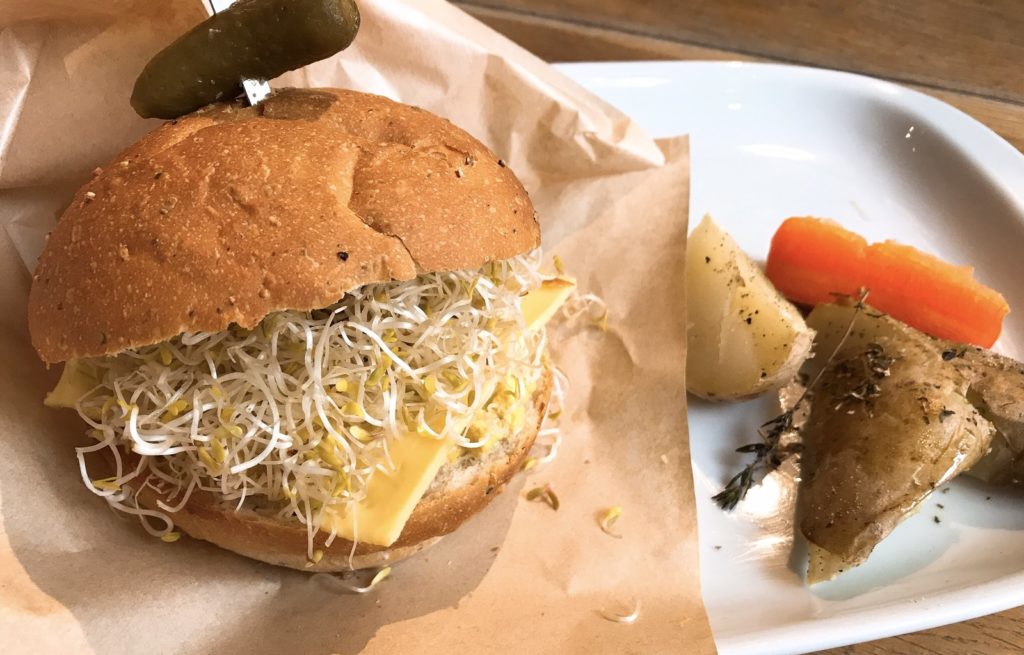 There are burgers that are satisfying to eat and keema curry with plenty of vegetables.
The burger has a teriyaki taste, and the soy meat, vegan mayonnaise, and avocado combine to create a creamy taste, which is very delicious.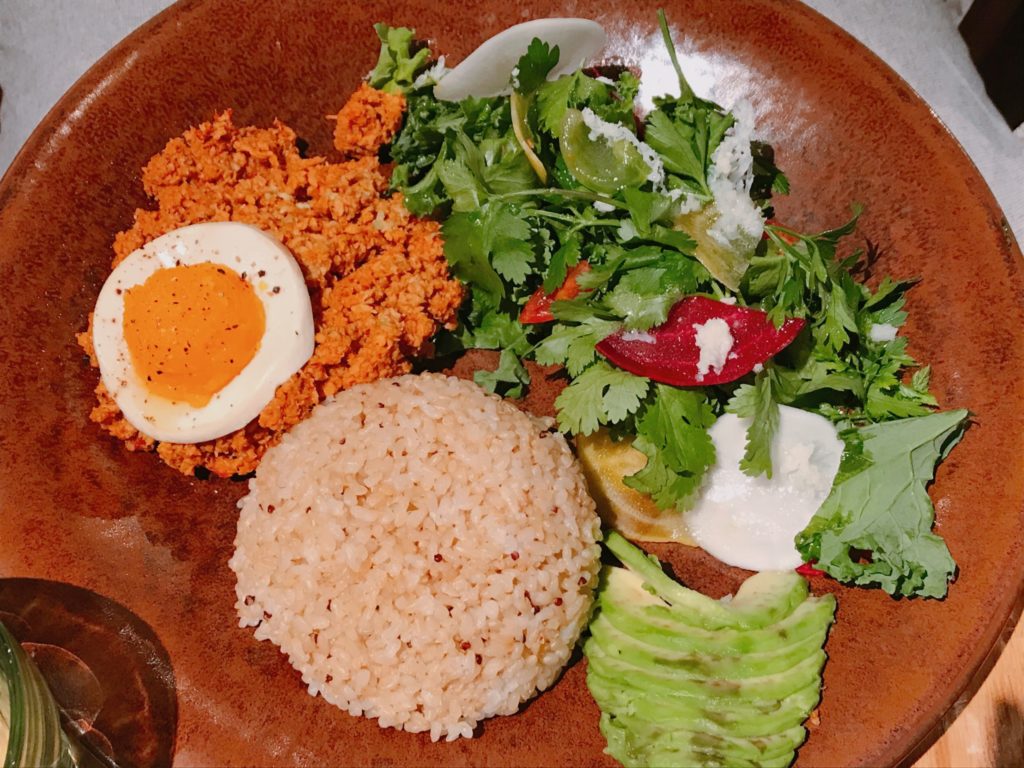 Keema curry uses soy cheese, so it is a curry with sweetness and richness. 
Coriander is served as a salad.
There are vegan fried eggs that are hard to find at other restaurants, so please give it a try.
Green salad is recommended for those who want to eat a lot of green vegetables.

Various kinds of vegetables are contained in one bowl.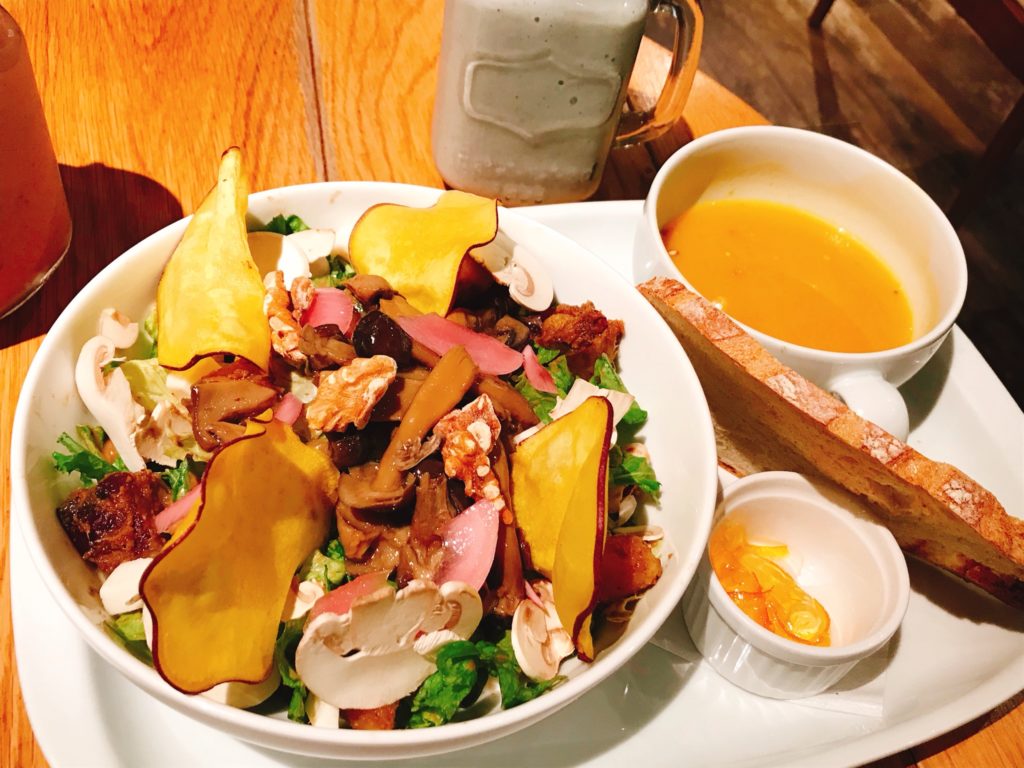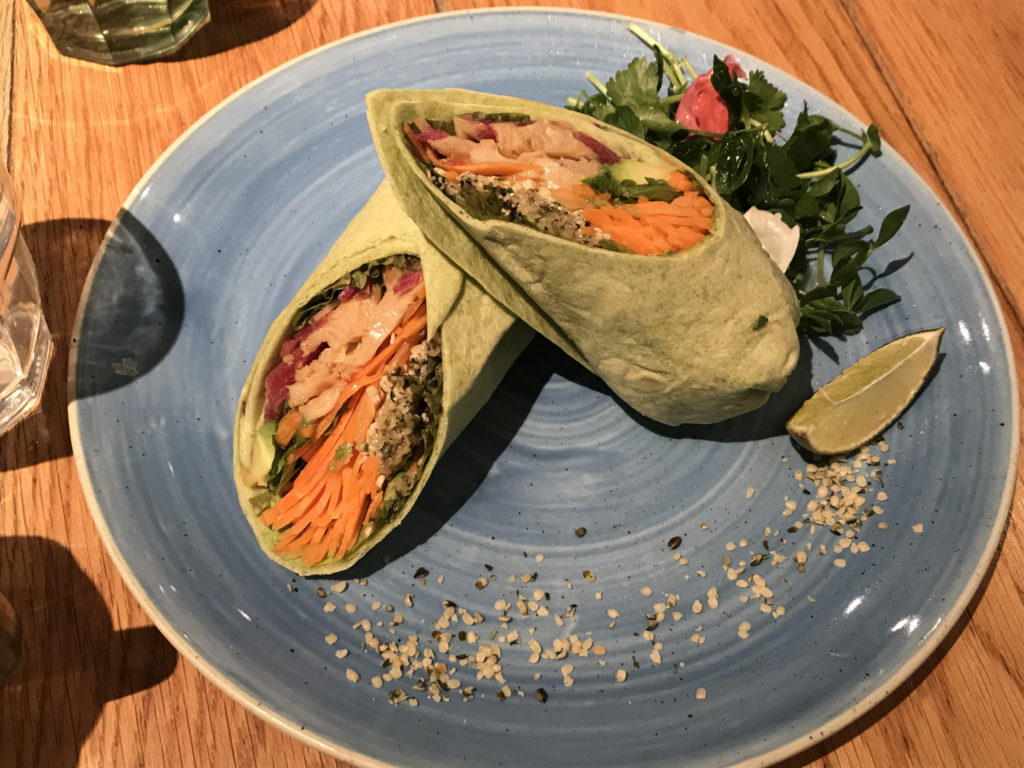 Asian wrap has a lot of vegetables and a lot of volume, so you will be fully satisfied. 
Since soy meat is used a lot, it is a must-try item for those who have never eaten soy meat. 
Coriander is also attached to Asian wrap.
Some meals are not vegan.
Bacon and cheese are used for croque monsieur.
It's a shop that even non-vegan people can enjoy.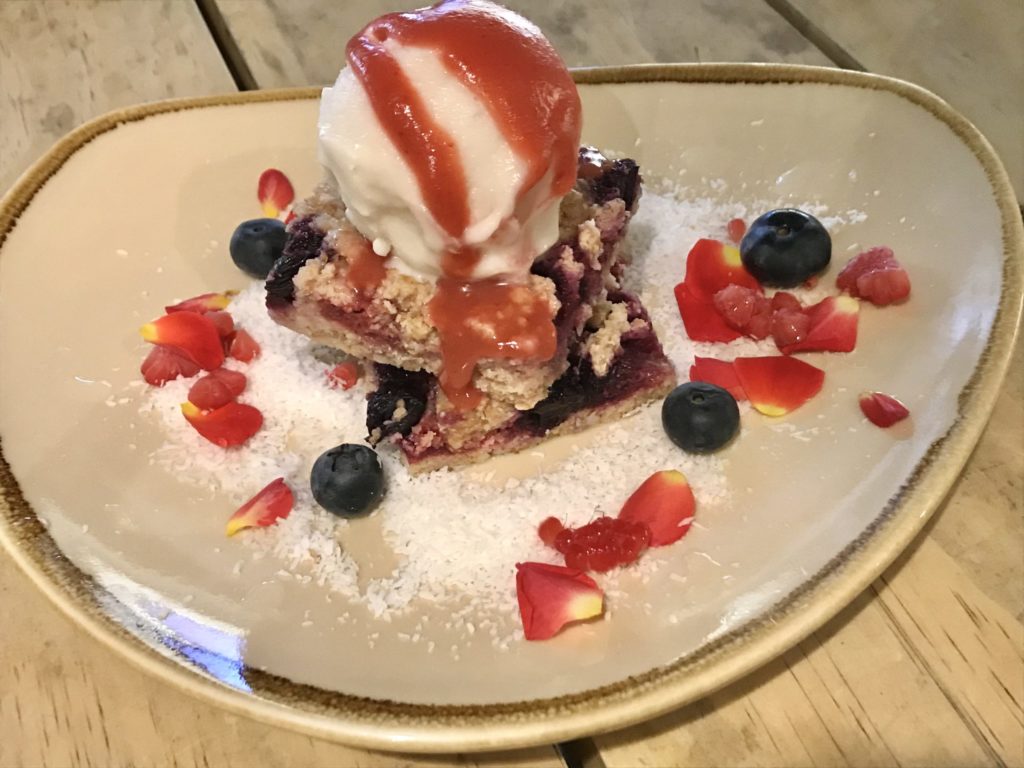 There are also sweets, so you can use it as a cafe. 
Berry Berry Cobbler has a scrambled cake under the ice cream.

There are other vegan cakes, so please try them.
The restaurant has a stylish atmosphere, but there are sofa seats so you can relax.

[Address]

Odakyu Shinjuku Mylord Mosaic Street, 1-1-3 Nishi-Shinjuku, Shinjuku-ku, Tokyo

[Access]

1 minute walk from the south exit of Shinjuku Station on each line (138m from the station)
Mosaic Street → Shopping street connecting "Odakyu Department Store" to "Shinjuku Milord"

[Business Hours]

9: 00-23: 00 (L.O.22:00)

[Regular holiday]

Open daily (similar to Odakyu Shinjuku Mylord)

店舗情報 - LOCATIONS | 【公式】Mr.FARMER(ミスターファーマー)
表参道、駒沢、六本木、新宿、日比谷、木更津、横浜、恵比寿で展開しています。Mr.FARMER(ミスターファーマー)は「美と健康は食事から」をテーマにしたお野菜カフェです。シェフが選んだ自慢のお野菜をふんだんに使い、ヴィーガンメニューやグルテンフリーのメニューなどバラエティ豊かに数多く揃えました。
AINSOPH.JOURNEY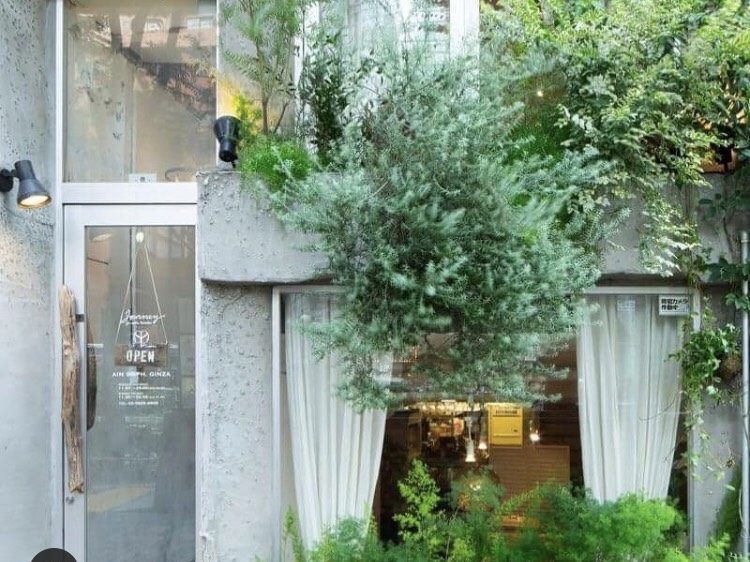 A vegan shop in Shinjuku 3-chome.

It is very close to Shinjuku Gyoen Park.

This is an Einsov-affiliated store, and there are about 3 other stores in Tokyo.

Each shop has its own color, and Ain Soph Journey sells pancakes.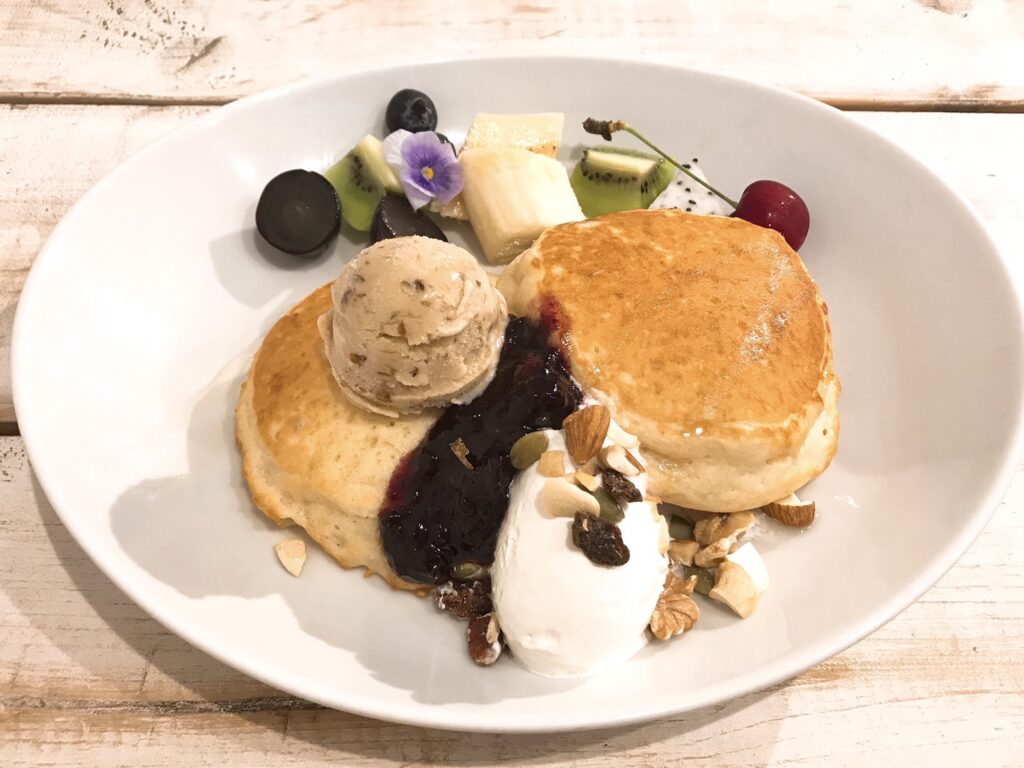 The dough is fluffy and the whipped cream is firm and sweet, but it's not sloppy and you can eat it completely.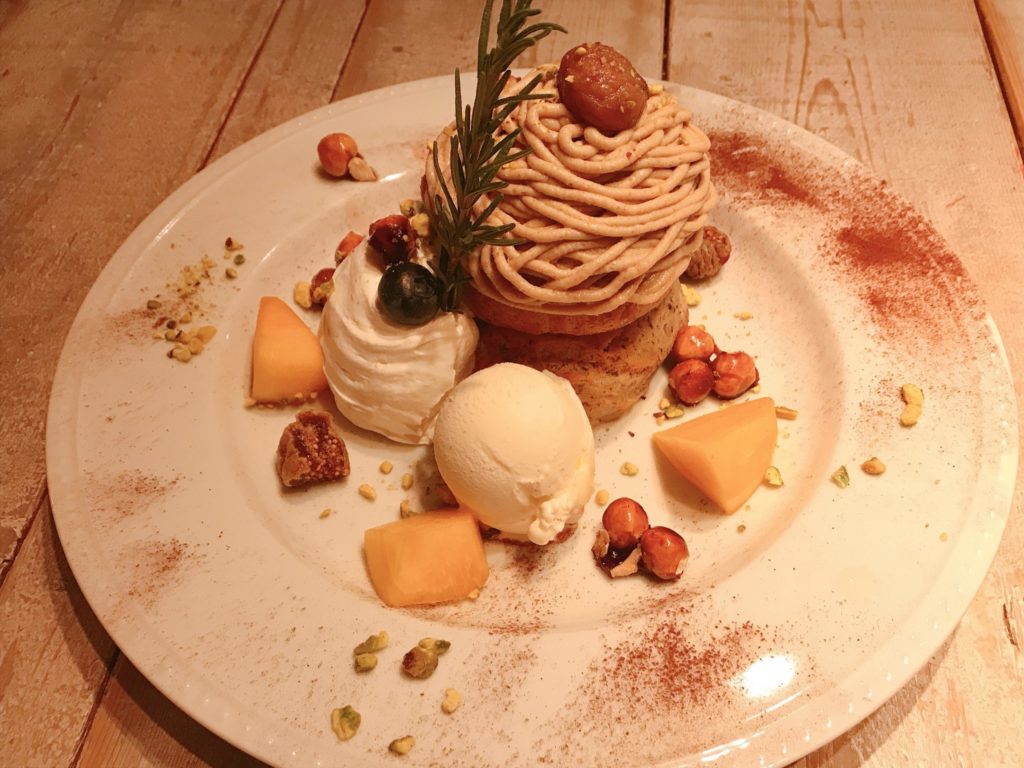 It takes about 15 minutes for the pancakes to arrive because they will be baked after ordering.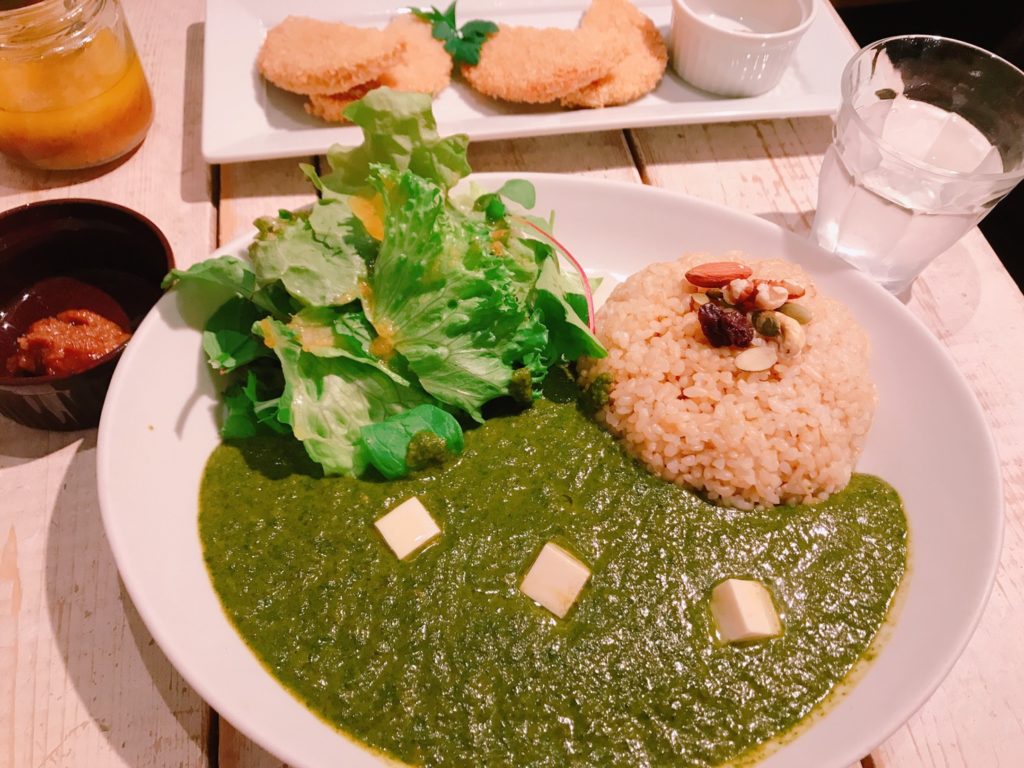 It also has vegan dishes for meals.

The vegan cheese on top of the green curry is made of soy milk.

The side menu soy meat cutlet is recommended because you can share it with your friends.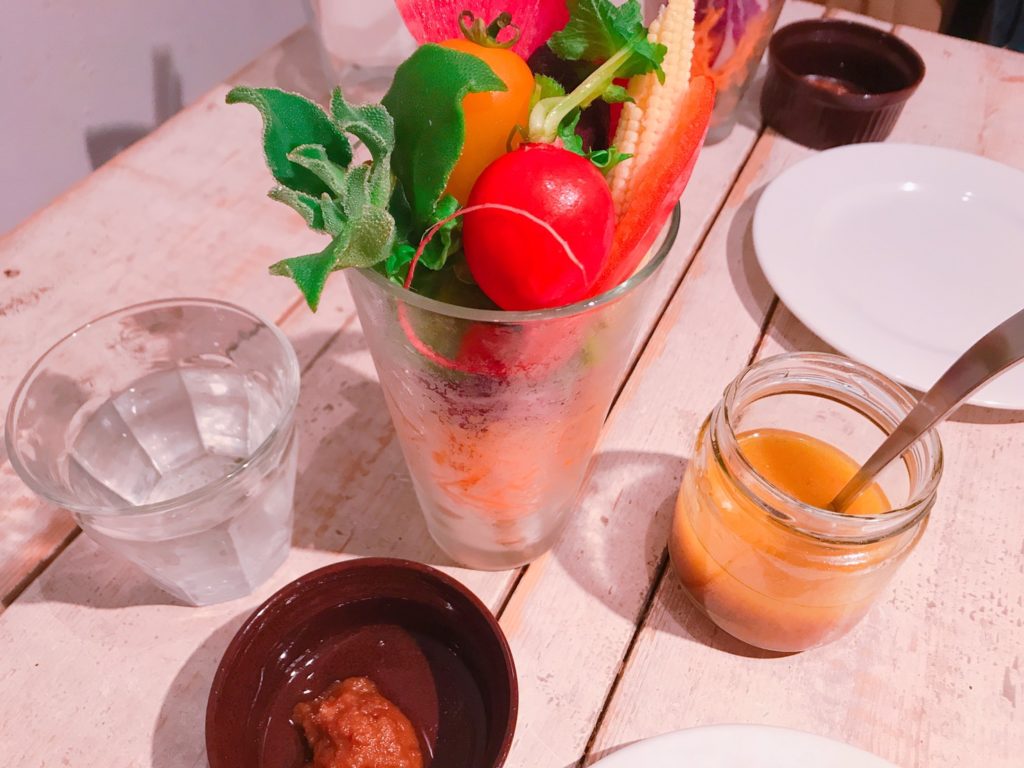 The vegetables in the lunch set were really delicious.

There are rare vegetables, and they are crunchy and crunchy, which makes them addictive.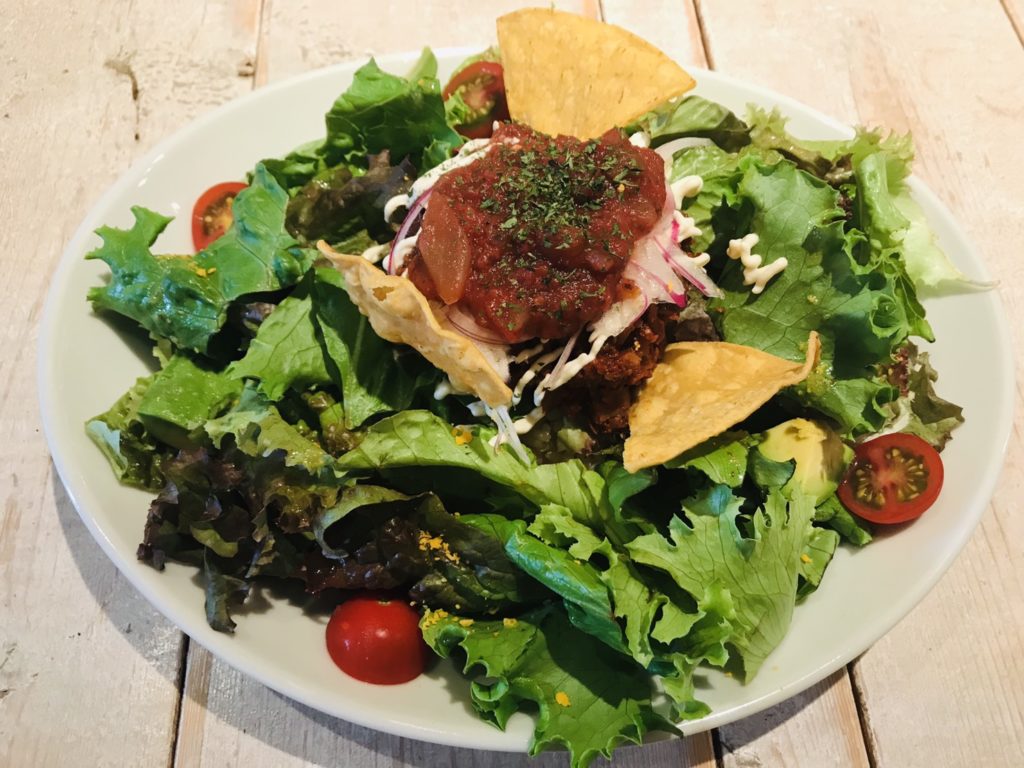 Vegan taco rice is full of leafy vegetables.

Below that is taco rice with taco spice.

The following is a dinner time meal.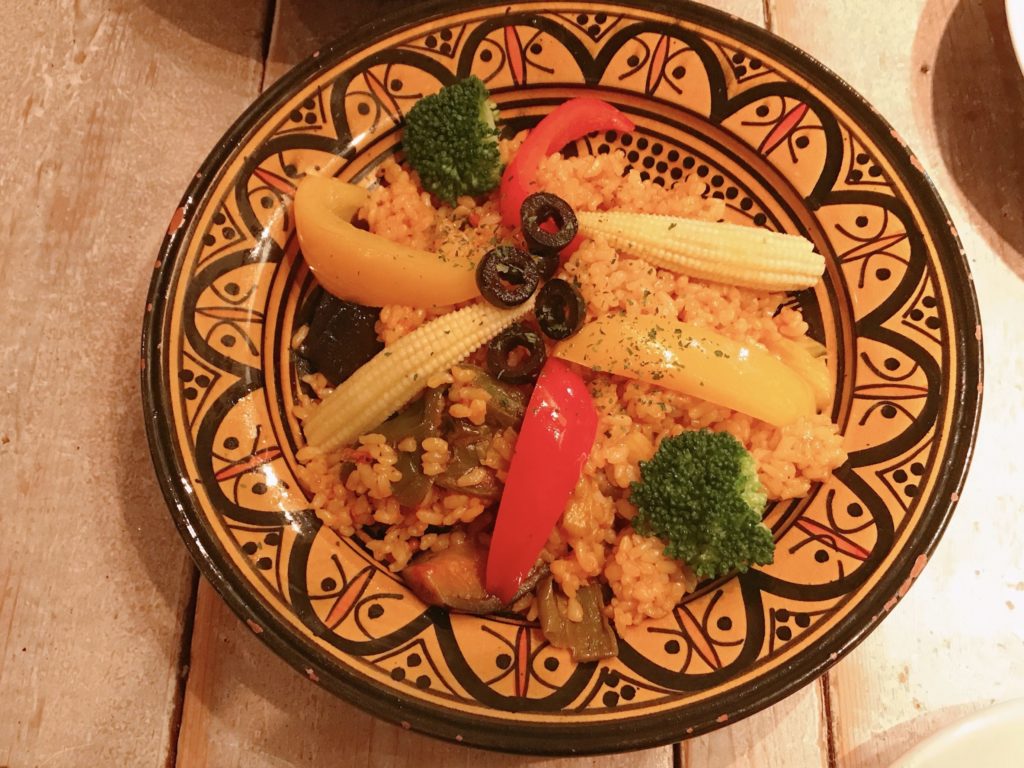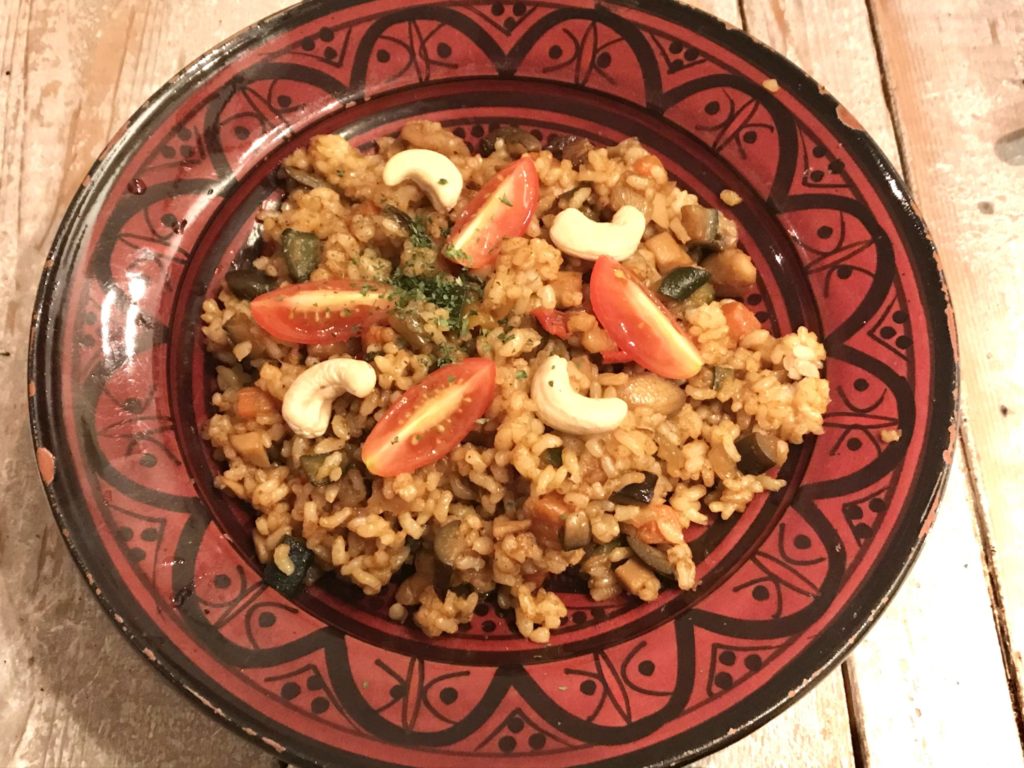 Paella is usually made with plenty of seafood, and the soup stock adds flavor to the rice. 
This vegan paella is seasoned with Hatcho Miso and vegetable soup stock. 
Cashew nuts are used in dry curry, which goes well with the spicy taste of spices.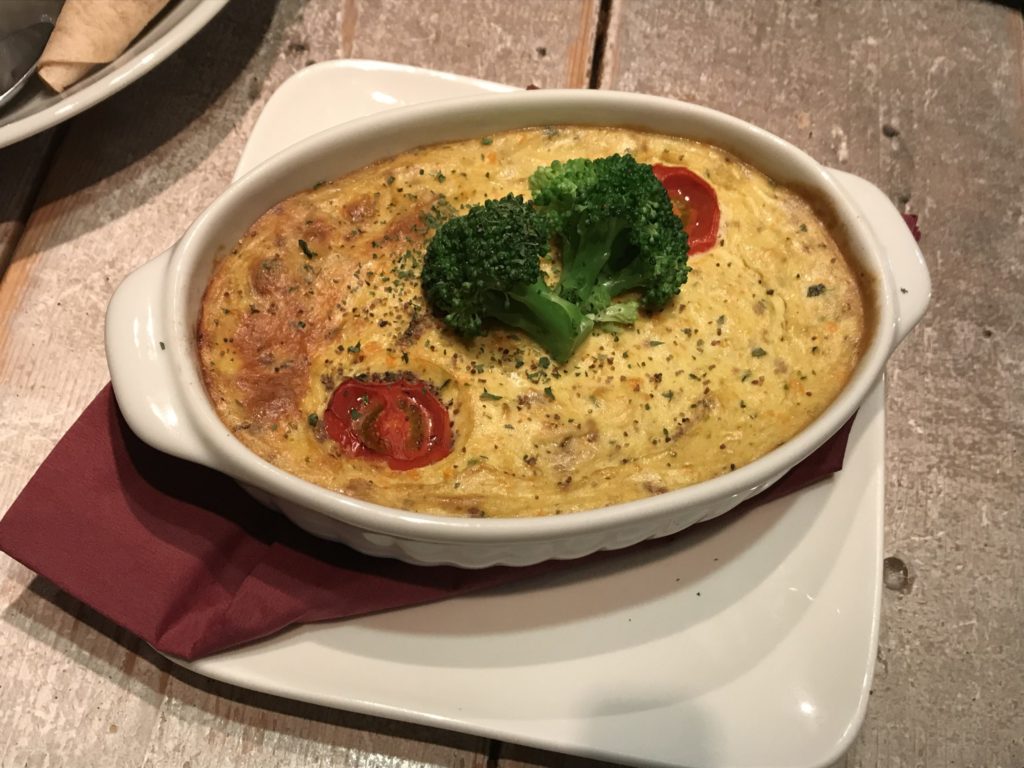 You can also order turmeric-colored mild-tasting Spanish omelettes and tortillas.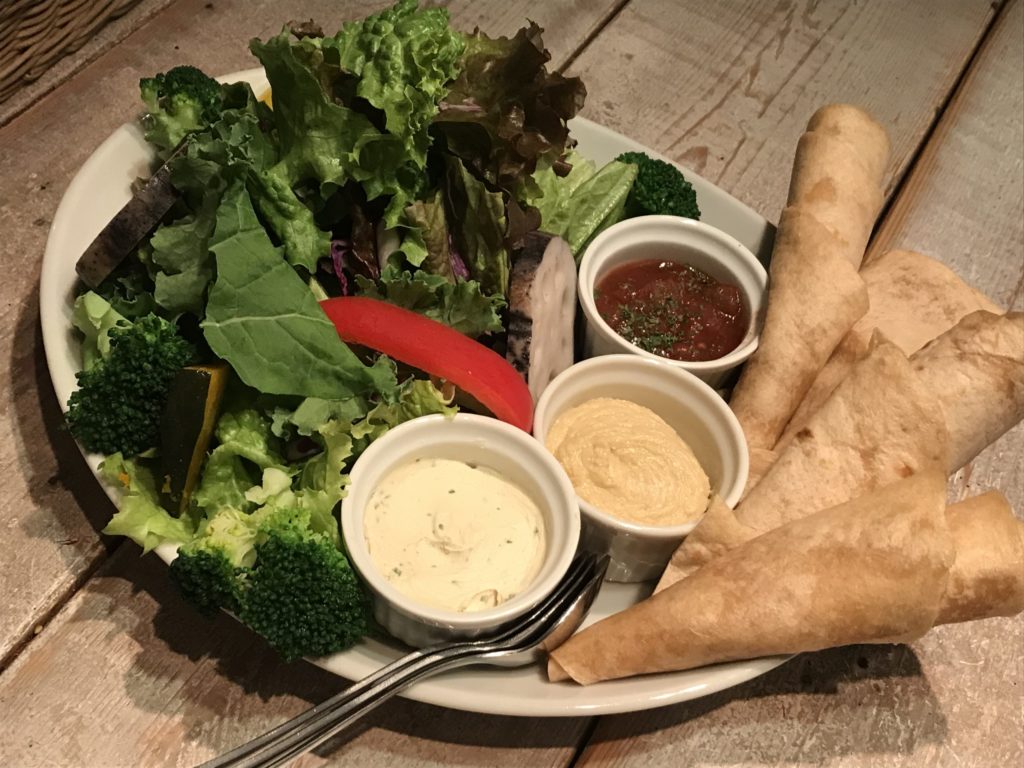 There are three types of dips attached to tortillas: salsa sauce, hummus, and vegan cheese dips. 
The vegan cheese dip is made from coconut oil and vegetable oils and is herbal, so it has a nice aroma and is exactly the taste of cheese. 
This tortilla is a self-rolling type, but there are already tortillas with vegetables on the menu.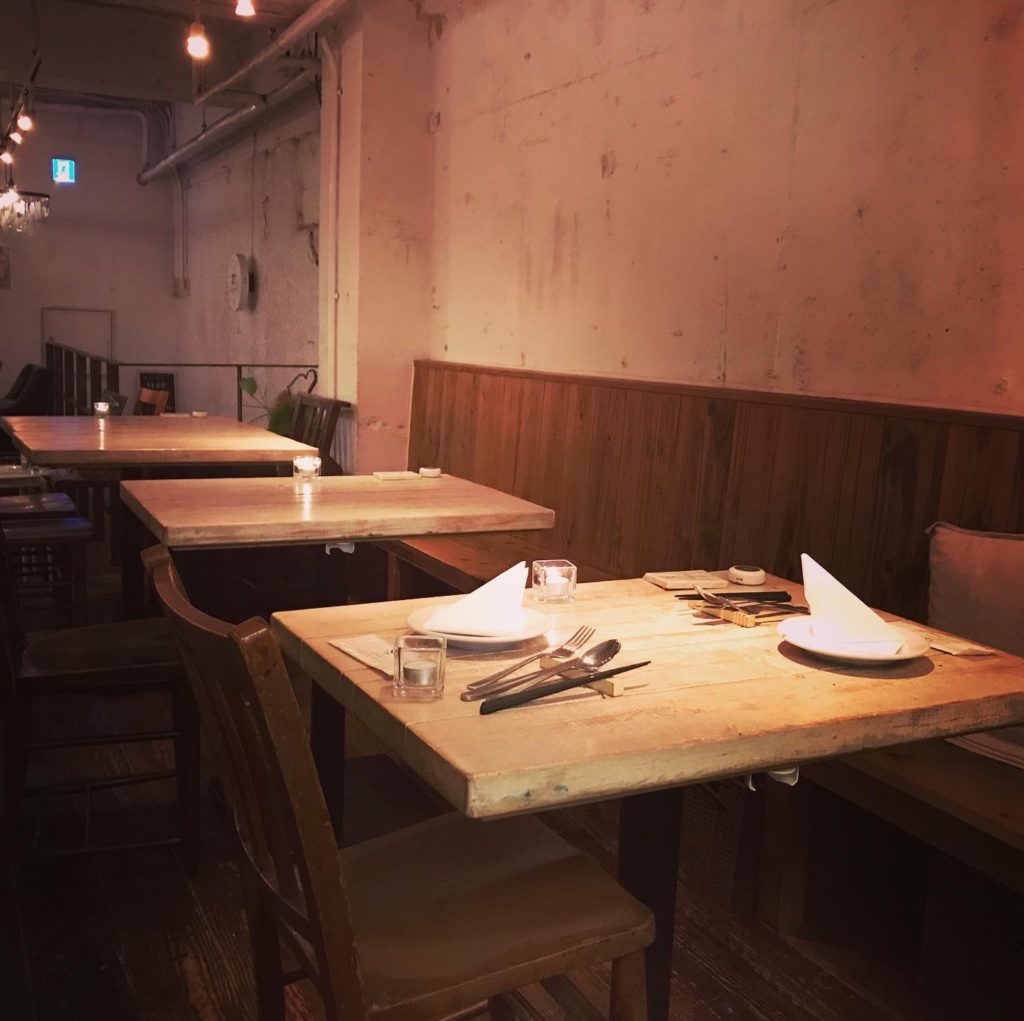 [Address]

Shinjuku Q Building 1F, 3-8-9 Shinjuku, Shinjuku-ku, Tokyo

[Access]

Tokyo Metro Marunouchi Line Shinjuku Sancho Station Exit C5 0 minutes (220m)

Tokyo Metro Marunouchi Line Shinjuku Gyoenmae Station (Gateway 1) 6 minutes on foot (440m)

7 minutes walk from JR Shinjuku Station
[Business Hours]

Lunch: 11: 30-16: 00 (L.O15: 00)
Dinner: 18:00~22:00(L.O21:00)

[Regular holiday]

Irregular holidays (see HP calendar)

https://www.ain-soph.jp/journeyshinjuku
wired bonbon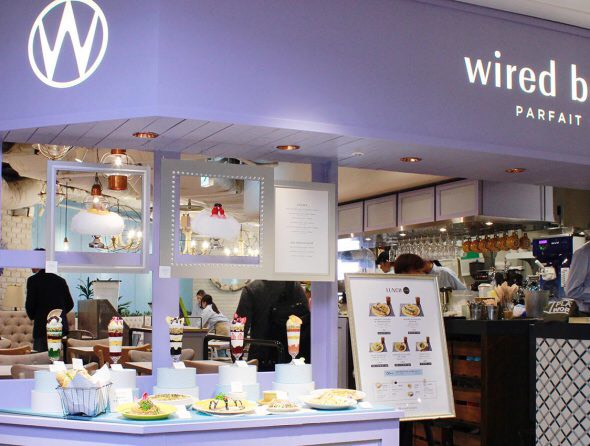 Vegan sweets by pastry chef who was the owner of a vegan sweets specialty store from Japan.

The main is parfait, and there are various types of vegan parfaits.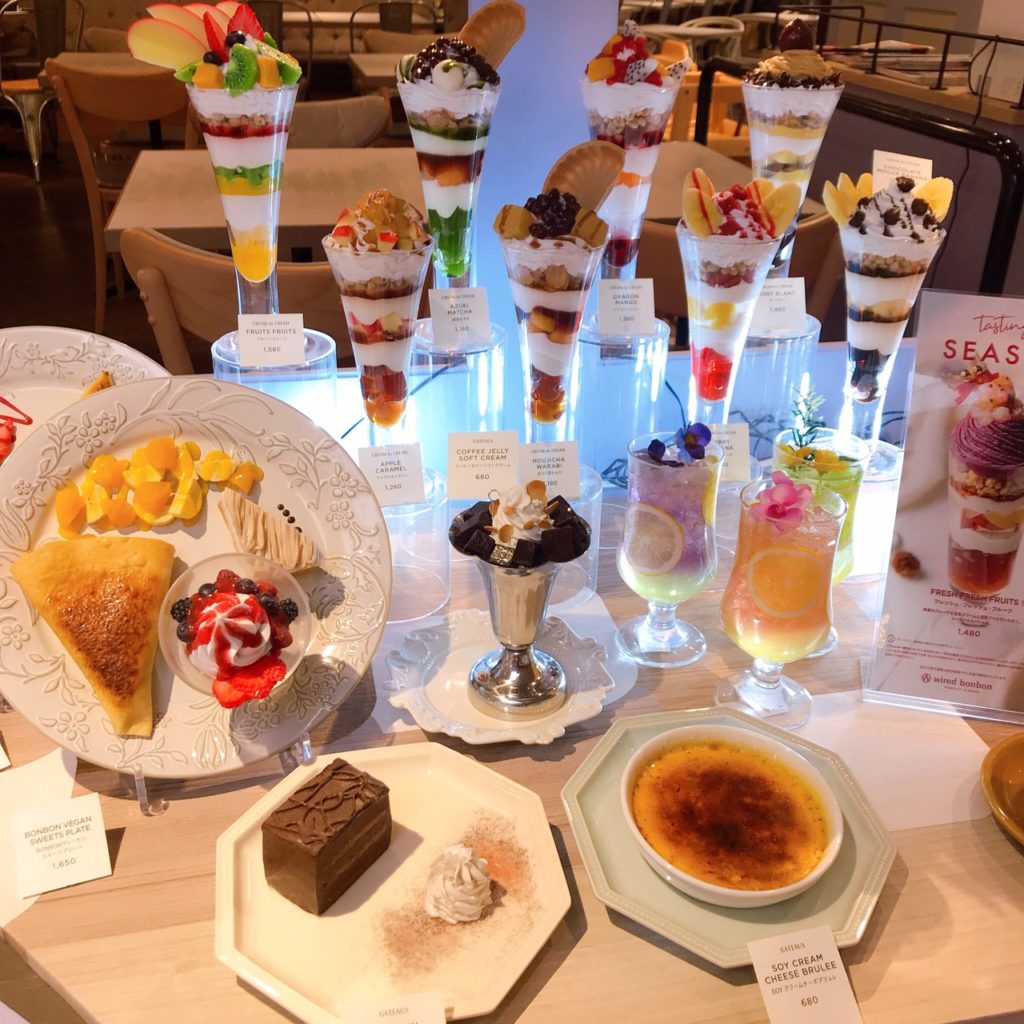 The parfait contains plenty of soy milk cream and soy milk ice cream.

The sweetness is strong and rich, but the aftertaste is refreshing.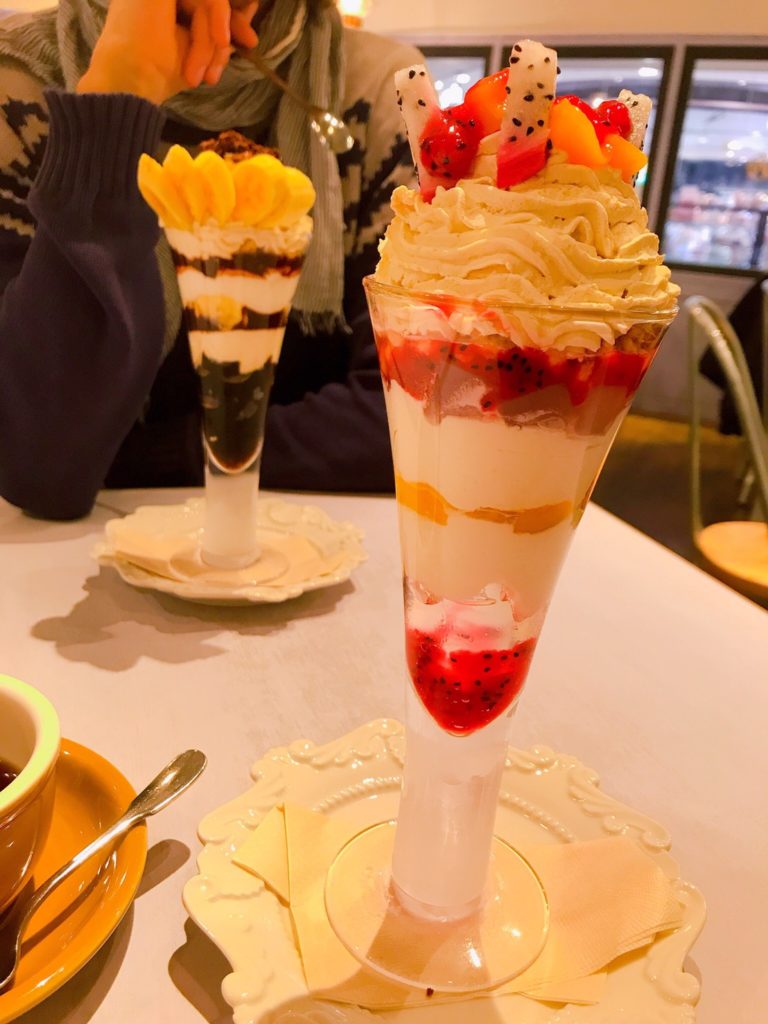 It uses plenty of soy milk whipped cream, so it is recommended when you want to eat vegan sweets.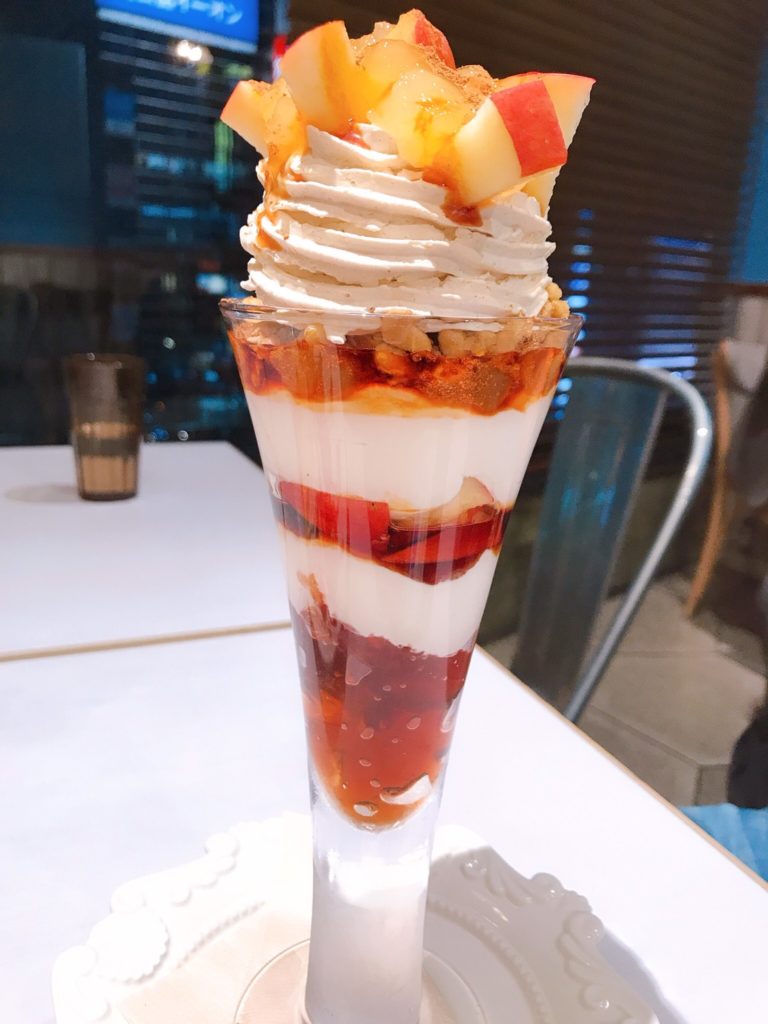 Sweets that you can be satisfied with with a tall parfait.

Cinnamon is hung on the apple, and it goes well with caramel and apple.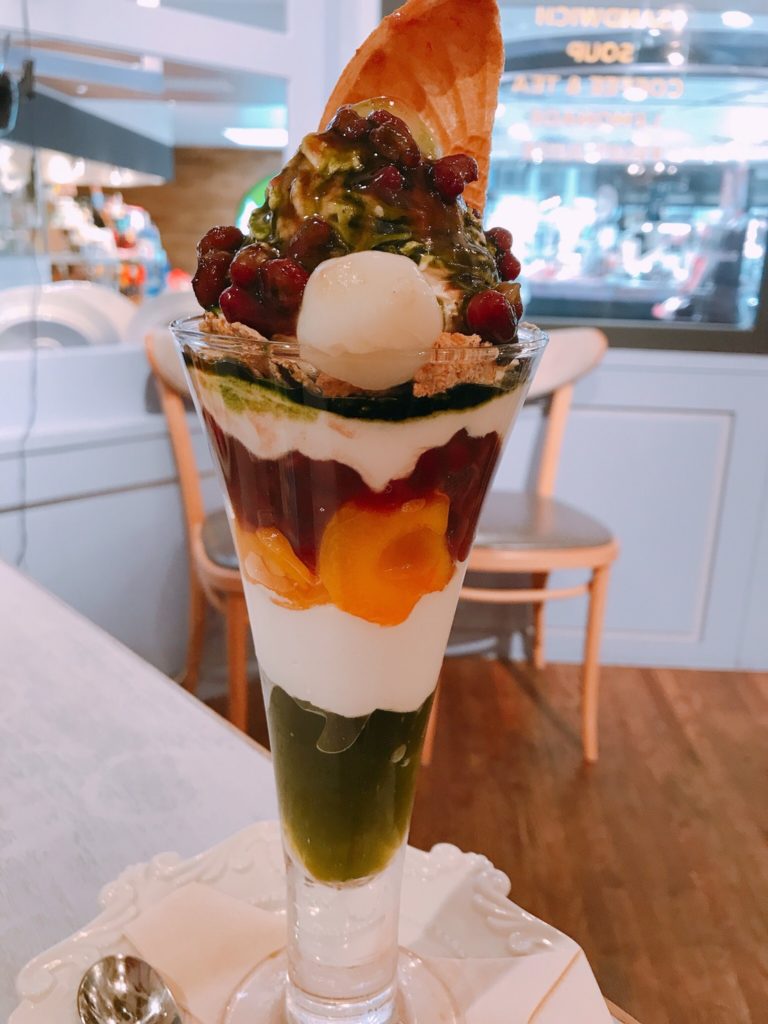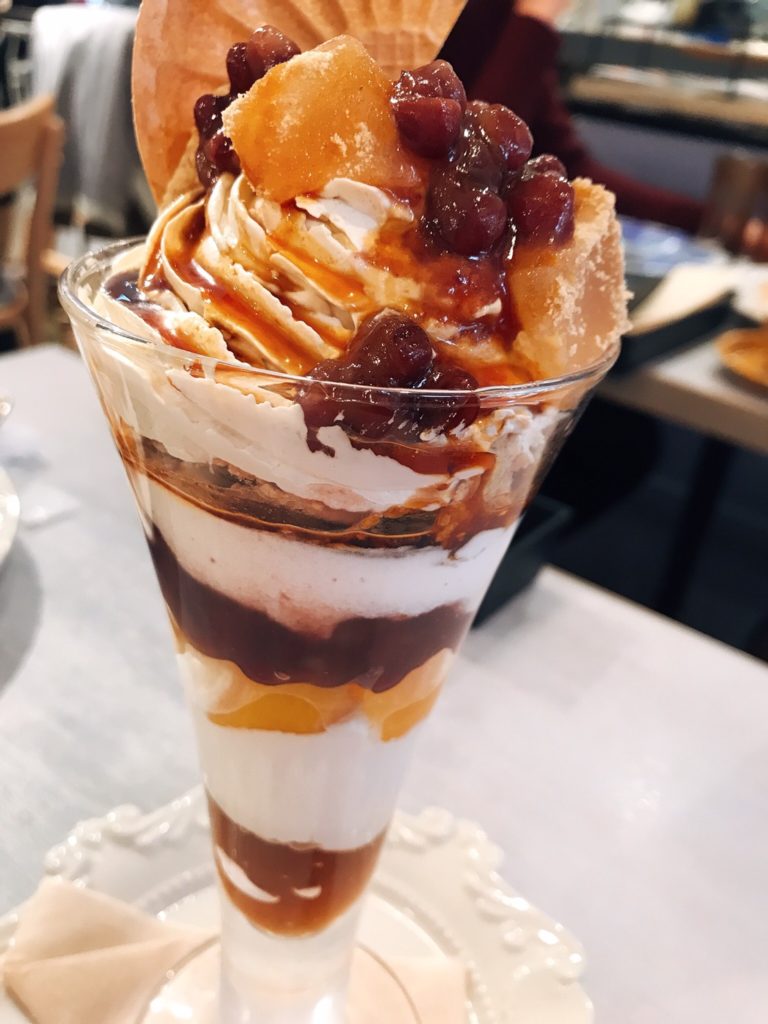 Warabimochi is on top of the roasted green tea parfait.

You can enjoy the combination of azuki and soy milk whipped cream in vegan.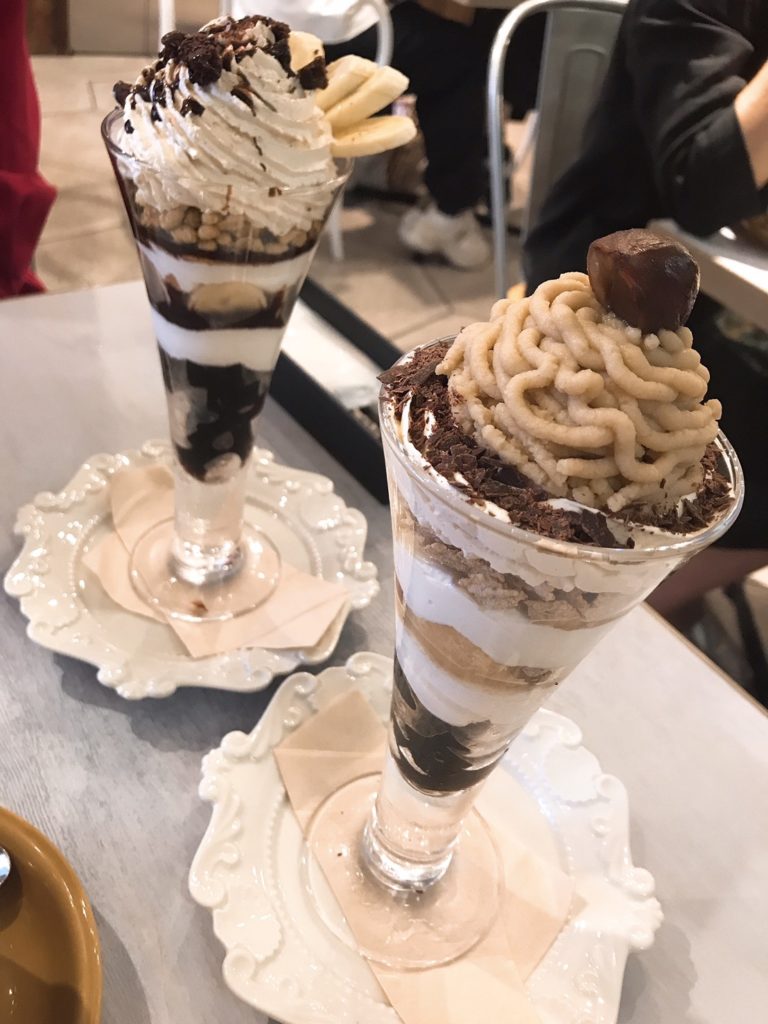 Under the Mont Blanc Parfait and Chocolate Banana Mocha Parfait, there is coffee jelly.

Because it is vegan, the jelly is gelatin-free.

Enjoy a bittersweet coffee jelly and a sweet parfait.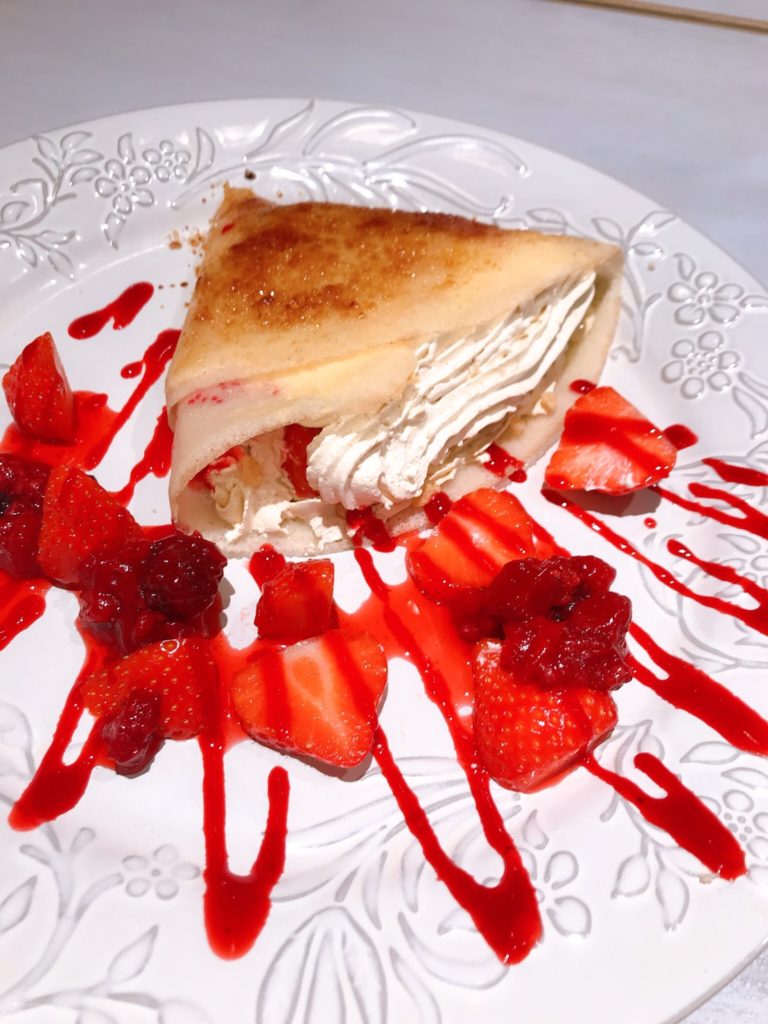 Not only parfaits, but also crepes.

There are two types of crepes, berry and orange chocolate.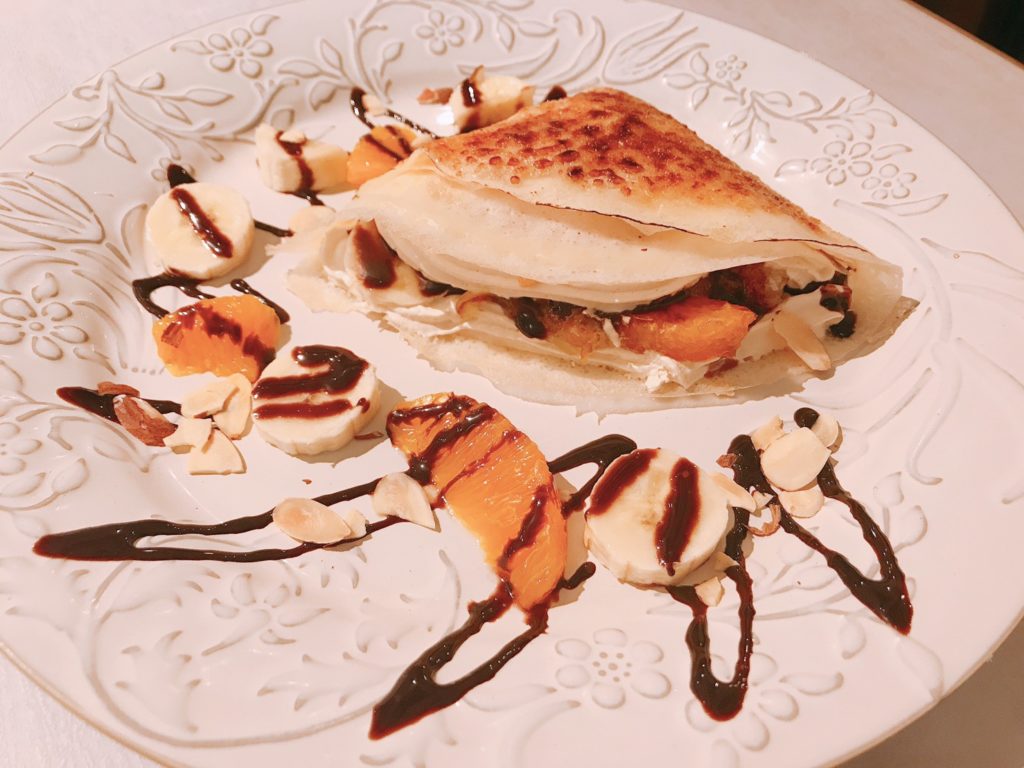 The crepe dough is crispy because the surface is burned with a burner.

The crepe dough folded in multiple layers, soy milk whipped cream, and fruits are combined to make a crepe that is satisfying to eat.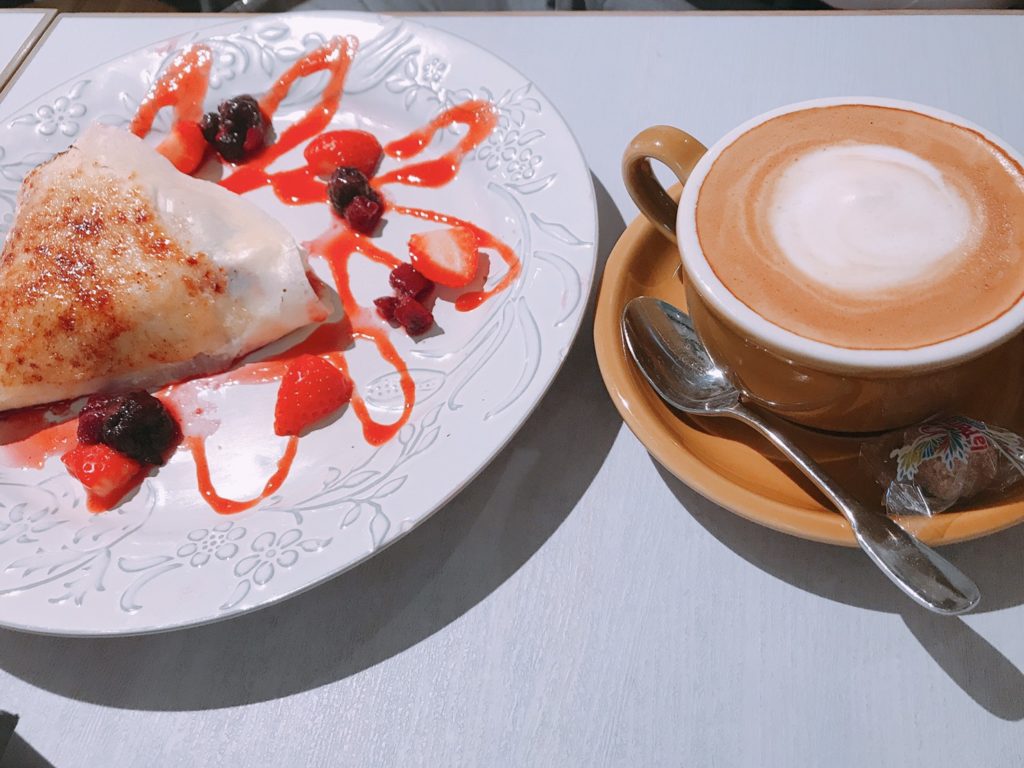 The tableware is elegant and complements the sweets.

You can add coffee or tea to the sweets as a set.

You can change the milk of cafe latte or tea latte to soy milk for 100 yen.

The menu is easy to understand because it has milk and gluten marks.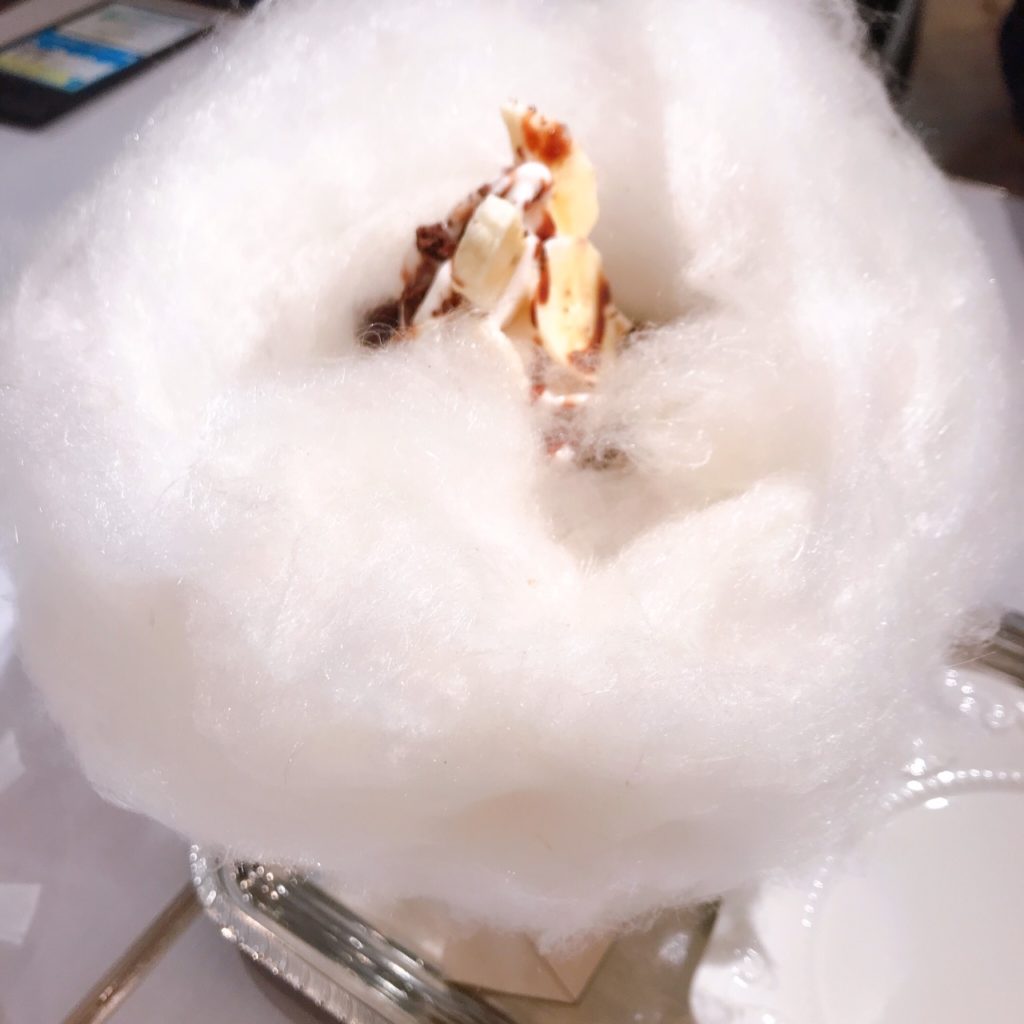 There are also cotton candy.

Cotton candy is on top of a slightly smaller parfait.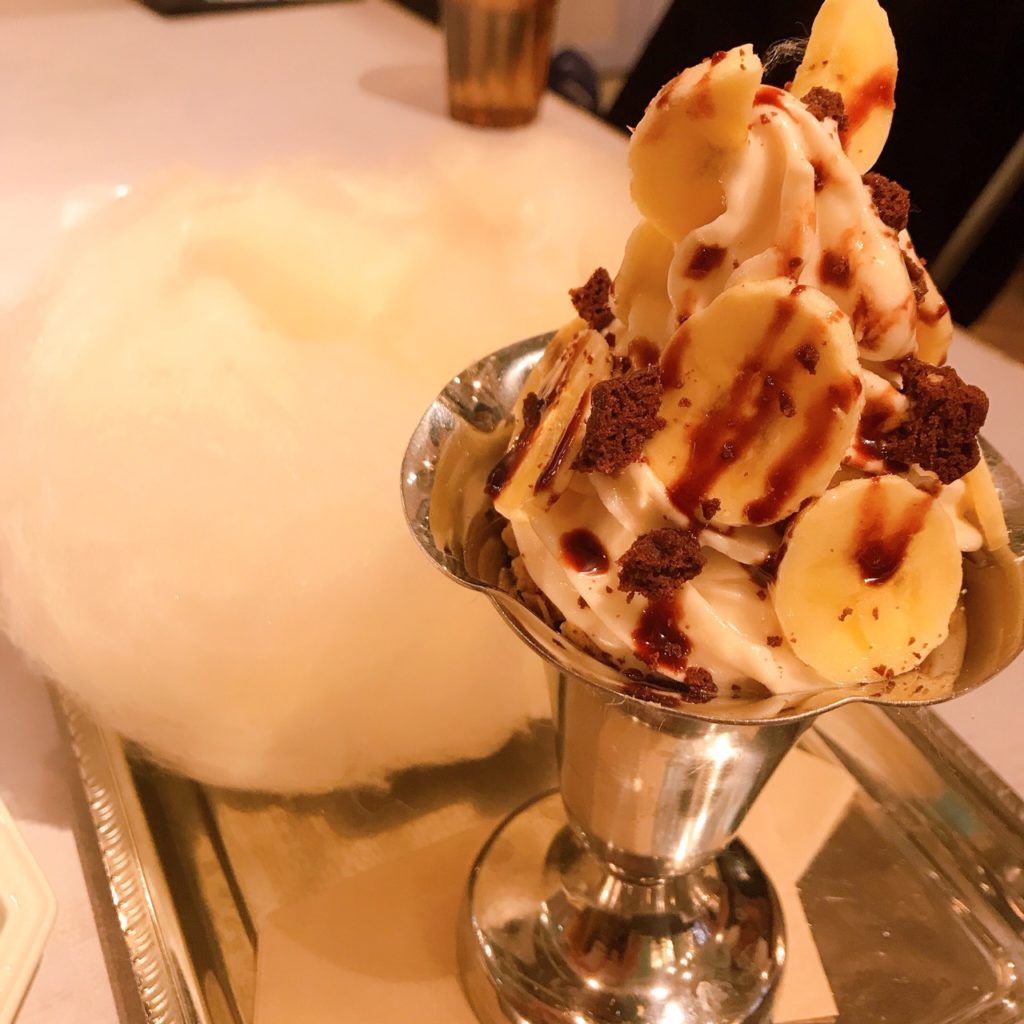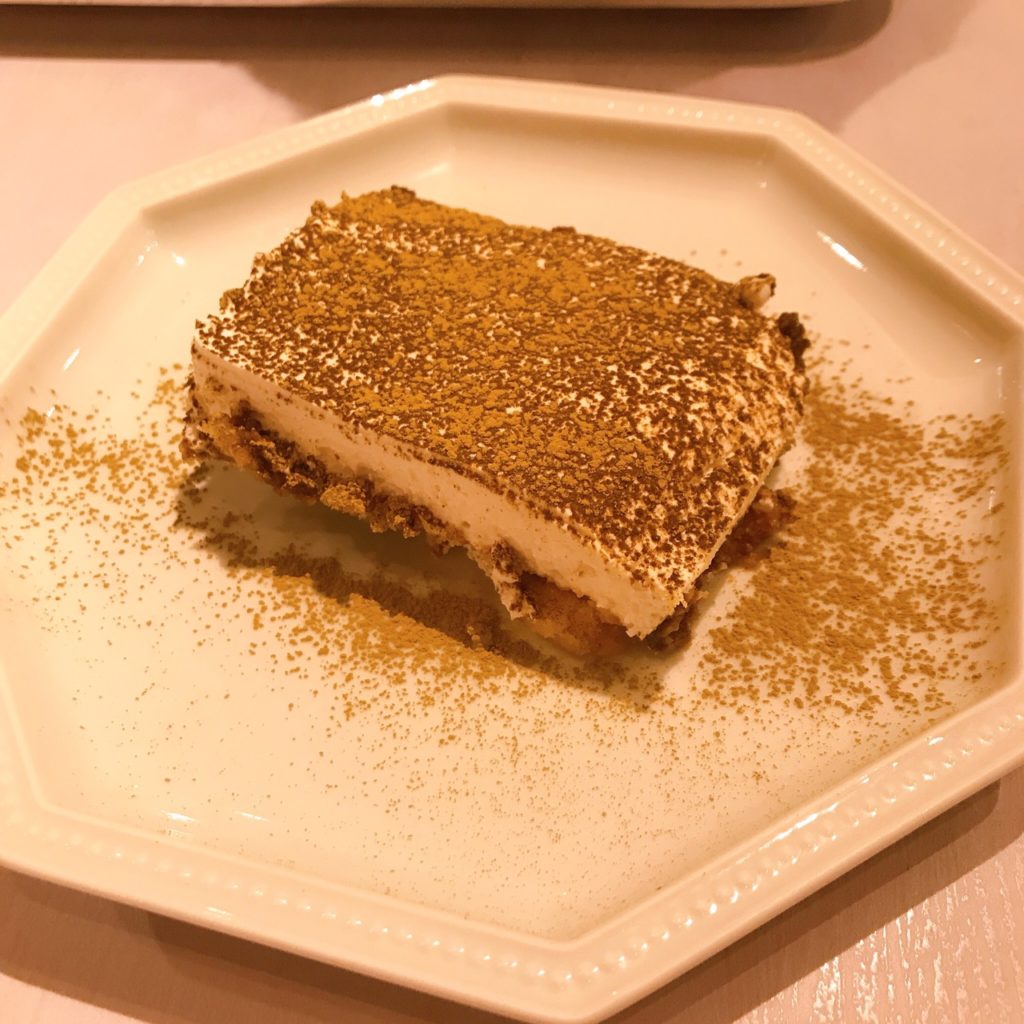 If you can't eat a lot of sweets, I recommend that you have a small cake.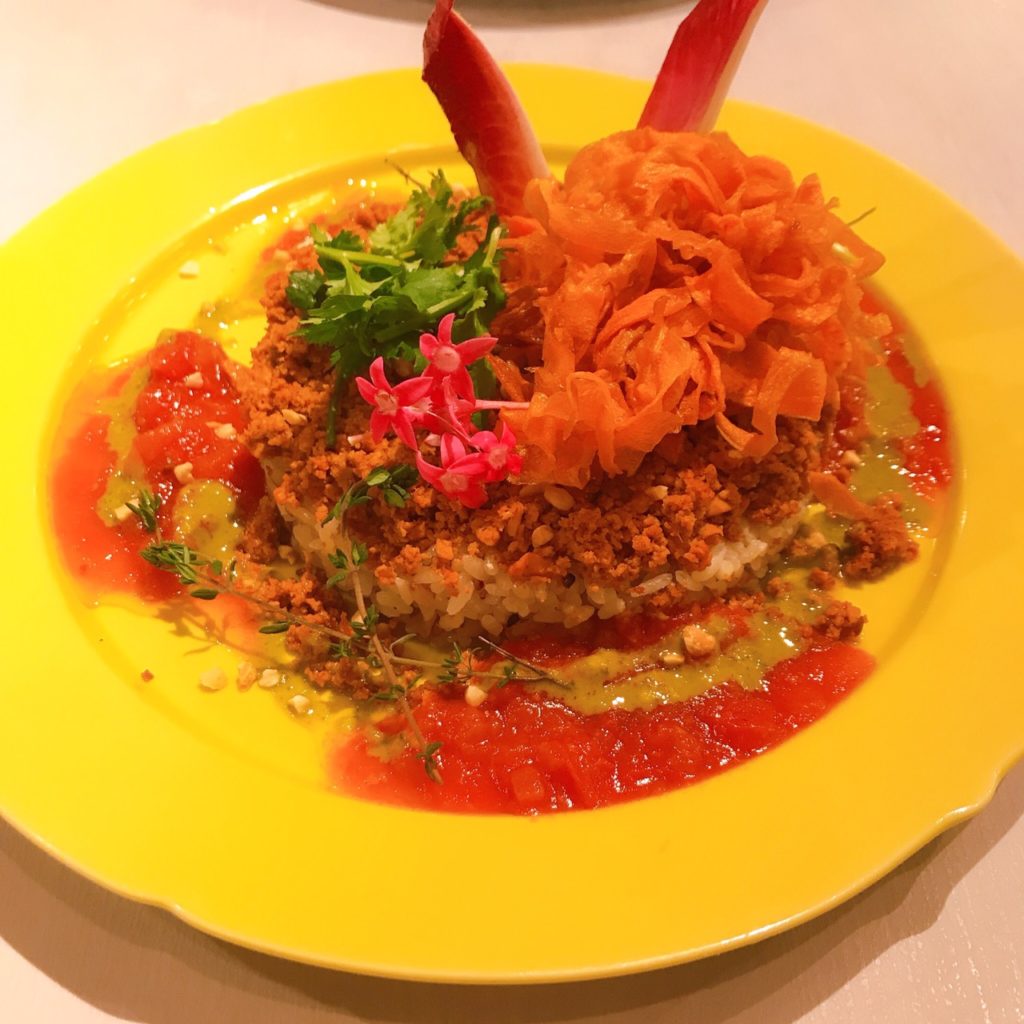 Vegan dishes include taco rice, minestrone, and meat doria.

For non-vegan dishes, there is omelet rice.

The lunch set allows you to set small cakes.

[Address] 〒160-0023

LUMINE Shinjuku 1-6F, 1-1-5 Nishi-Shinjuku, Shinjuku-ku, Tokyo

[Access]

Directly connected to JR Shinjuku Station

147m from Shinjuku station

[Business Hours]

11: 00-22: 30 (L.O. FOOD 21:45 / DRINK 22:00)

[Regular holiday]

Irregular holidays (according to the closed days of LUMINE 1)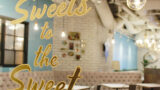 wired bonbon | CAFE COMPANY
ヴィーガン・スイーツに特化した、WIRED CAFEの姉妹ブランド。
Summary
How was the introduction of the vegan store in Shinjuku?

Some shops specialize in vegans, while others serve vegan and regular dishes.

Since various values regarding meals have increased, it is very grateful that there is a restaurant where you can spend a wonderful time together even if the values are different.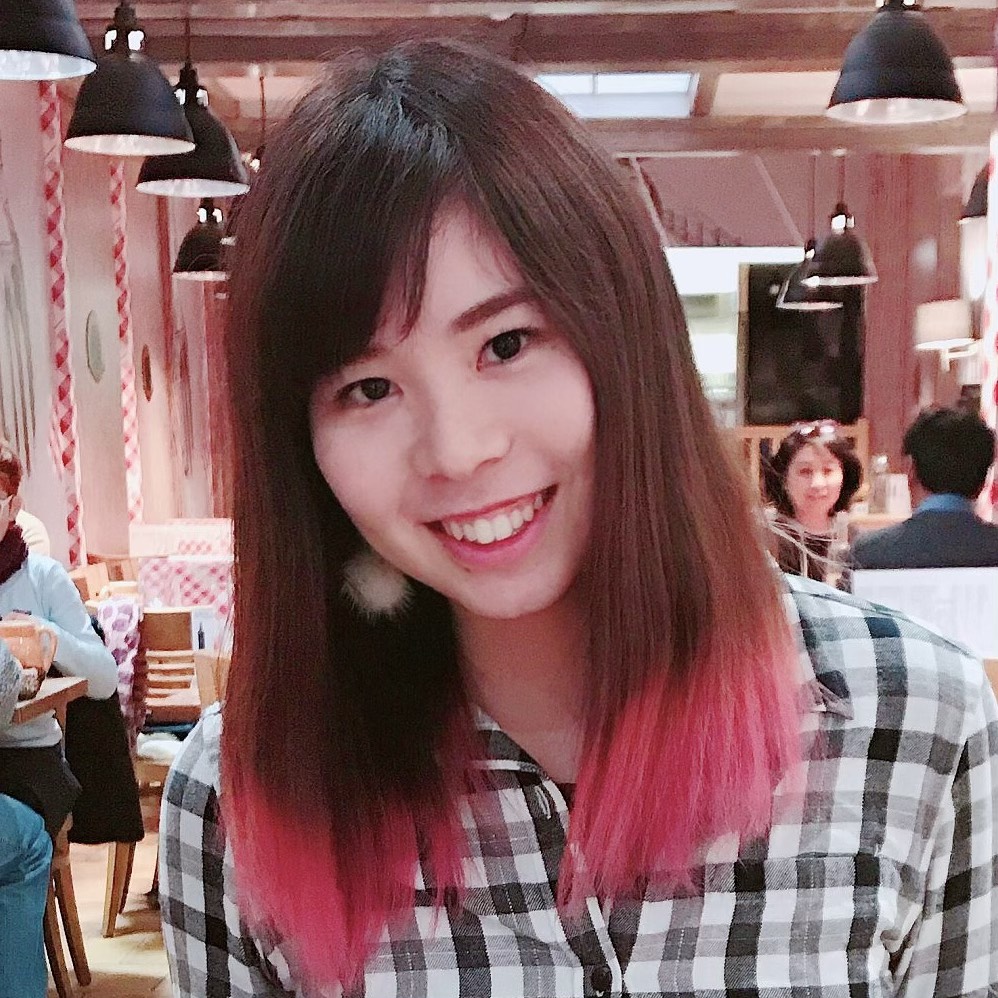 vegan_miku
All the shops have a nice atmosphere and are recommended. Of course, the food is delicious, so if you are interested, please please go there.